DISCOVER THE ARTISTIC SIDE OF CNP CYPRUS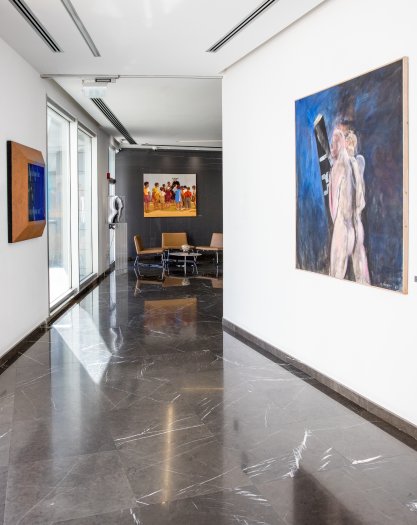 CNP CYPRUS' building in Nicosia is filled with contemporary artwork, paintings and sculptures, created by Cypriot and European artists. As CNP CYPRUS is active in many sectors of the Cypriot society, this initiative is one of many actions taken within the framework of the company's social responsibility. Its aim? To further support and promote contemporary art, Cypriot and European creators and expand cultural values.
Learn more about the artists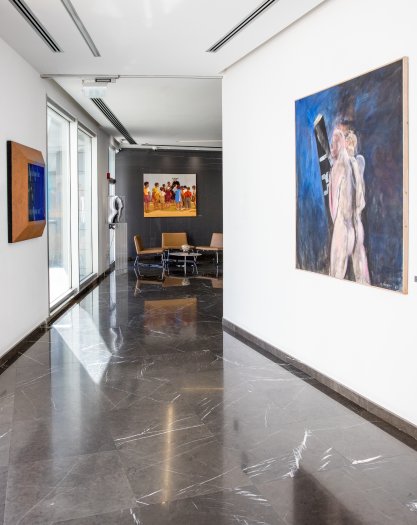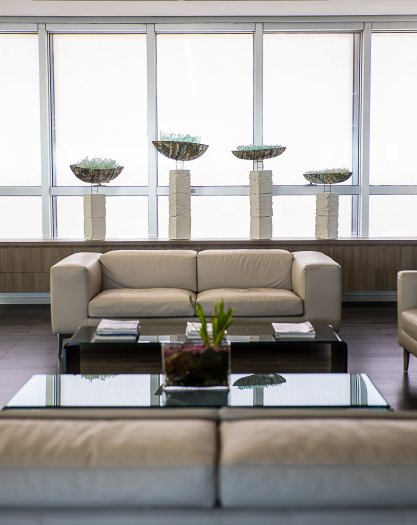 ART IS
MARINA VRYONIDOU - CURATOR CNP CYPRUS ART COLLECTION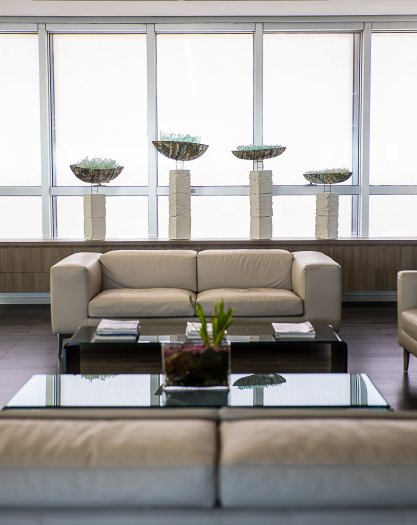 CNP CYPRUS has chosen to adopt a corporate social responsibility initiative that is distinguishable, progressive and interactive: The creation of a contemporary art collection.
CNP CYPRUS has chosen to reflect its core corporate values through art and to create an interesting dialogue between artwork and their viewers. The artworks of the collection adhere to the CNP central theme … To all our Futures. The selected art works are anthropocentric and interactive as they aspire to advance an interesting work environment, to instigate dialogue and to create a stimulating narrative from the past to the present to the future.
The most obvious benefit to CNP CYPRUS is that the artwork is displayed in the workplace, where the artistic compositions colour the monochrome walls and spaces. But it is much more than that. Art has proven that it encourages productivity and even creativity. Both staff and clients enjoy thought-provoking works that are intellectually challenging, contest different viewpoints and bring people together through the exchange of ideas and opinions.
Above all, CNP CYPRUS wants their art collection to be something that speaks about their corporate culture with an activity that creates a visual interactive encounter between staff and clients, between the local community and beyond.
Follow the Narrative
The CNP CYPRUS Contemporary Art Collection is displayed in the offices as a narrative to convey stories to the visitor as an aesthetic experience, a personal journey that can be complex or interesting but never boring.
From the main foyer of the CNP CYPRUS central offices, the visitor is immersed in art: first encountering the ghostly shapes of objects that seem ancient but are in fact utensils of our everyday life, opposite the revolving mirrors that both depict and reflect our memories. They will see an artwork with the figure of the Minotaur as a symbol of wisdom a benevolent teacher to a future generation, then the illuminated human head looking towards the sky to see beyond our attachment to self, while the courtyard installation "Tribute to Family", made of Cypriot limestone, invites the spectator to experience it as a contemporary monument that is both artistic and functional. All these and other artworks that are displayed in situ immerse the viewers into a different atmosphere from the established corporate setting and this differentiation is experienced in all the areas they will visit.
There is no doubt that art enriches our lives. In the case of a corporate art collection, the benefits can spiral and develop into something spectacular and may eventually return to the initial investment gains that are beyond expectation.
Art has a unique capacity to enhance awareness, promote knowledge and dialogue around complex social issues, as well as to connect across cultural differences, enhance aesthetic education, even promote a sense of wellbeing.
Where better to invoke these themes than in the public forum of a corporate environment?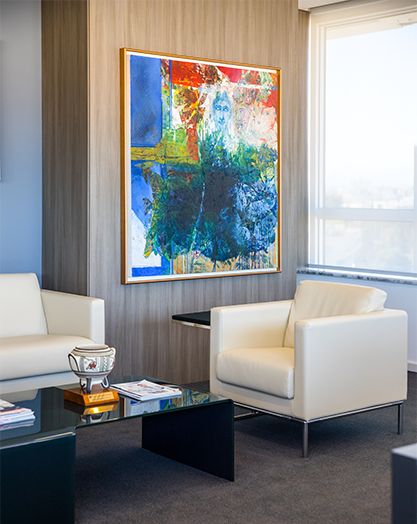 INVESTING IN ART
TAKIS PHIDIA - CEO, CNP CYPRUS INSURANCE HOLDINGS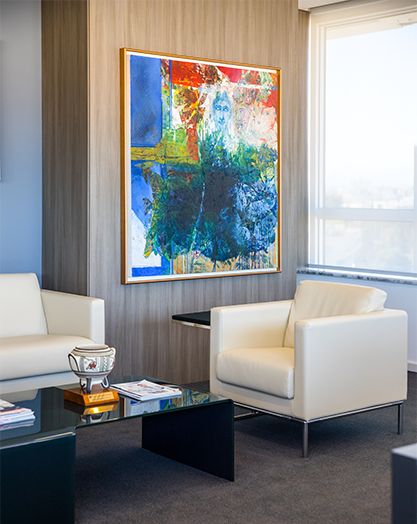 CNP CYPRUS INSURANCE HOLDINGS is a leading insurance group in the Cyprus market. The Group with its companies, CNP CYPRIALIFE and CNP ASFALISTIKI in Cyprus and CNP ZOIS in Greece, are members of the French multinational insurance group CNP ASSURANCES.
As a powerful and dynamic business group, CNP CYPRUS within the context of its corporate social responsibility is active in many areas of Cypriot society. Culture is one of them. The Group has taken the initiative and has instigated the creation of an art collection that promotes contemporary expression, supports Cypriot and European creators and expands cultural and aesthetic values.
CNP CYPRUS strongly believes that the presence of art in the workplace creates an aesthetically pleasing environment for clients and employees alike, an ambiance that can enhance productivity and creativity.
The CNP CYPRUS Art Collection encompasses a diverse variety of art expressions. Through this endeavour we aim to project a forward-looking group that highlights and supports artistic creativity which both reflects and influences the contemporary society in which we live.
Displayed in our central offices in Nicosia, the artworks of the collection create a powerful narrative and a purposeful intersection between the aesthetics of the art and our corporate core values.
"Art has the power to transform, to illuminate, to educate, inspire and motivate."
"The aim of art is to represent not the outward appearance of things, but their inward significance."
"Art is not what you see, but what you make others see."
"Art washes away from the soul the dust of everyday life."
"Creativity takes courage."
"Art doesn' t have to be pretty. It has to be meaningful."